PLS ⚡ HEX ⚡ BTC ⚡ BNB
"PulseChain's Fastest &amp Simplest Fiat Onramp Solution."
Use PulseLN in combination with CashApp, Coinbase, Binance, or any other popular exchange as an instant onramp & offramp to PLS, HEX, & other PulseChain assets.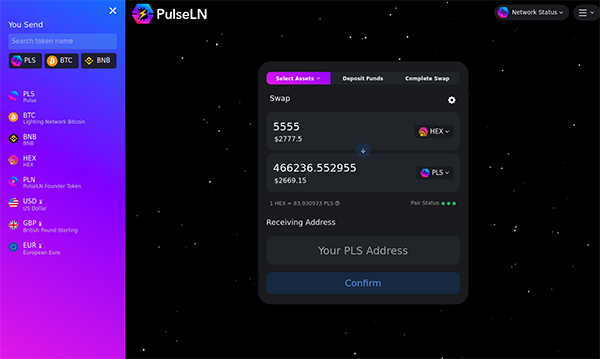 Enjoy the three fastest and most popular blockchains with cheap fees, PulseChain, Bitcoin's Lightning Network & Binance Smart Chain.
Bridging Networks
PulseLN
allows you to swap PLS, BTC (Lightning Network Enabled), HEX, & BNB in less than ~10 seconds for low fees.
PulseChain users
can now instantly access 1000s of low cost services on the Lightning Network including Shopify, BitRefill (gift cards), Bitcart (Amazon), Strike (fiat), and more. Visit
LN Stores
for more information.
Bitcoin users
can finally instantly access PulseChain, the fastest Layer 1 blockchain and the most popular high yield savings asset in the cryptoverse, HEX. Visit
HEX.com
for more information.

PLN
, the PulseLN Founder's token, could launch with mainnet and accrue all PulseLN.com swap fees.
PLN Token
PLN
is a Founder's token that could accrue all swap fees from PulseLN.com. PLN may be airdropped for free to certain PLS (PulseChain) addresses.
PulseLN's
Automatic Buy & Burn
function could use fees to buy PLN from the PulseX [PLN/PLS] pair and burn it on a regular basis.
PLN token's
Max Supply
could be fixed at launch and constantly decrease due to the the automatic buy & burn function.
Exchange Listing
of PLN on PulseX could ensure easy access for users. The PLN/PLS pair could likely be the most liquid PLN pool if listed.
PulseChain is Live
Visit the
PulseLN Exchange
and read the
PulseLN Support Documentation
now to try a pre-launch version of the service. If you haven't connected to PulseChain yet, follow the instructions below.
PulseChain is currently live. You can connect MetaMask now to view a copy of all of your ERC20 Tokens.
To connect to Pulsechain, open MetaMask, and click the Networks dropdown. Select "Custom Network". Now enter the following information:
Network Name:
PulseChain

New RPC URL:
https://rpc.pulsechain.com

Chain ID:
369

Currency Symbol:
PLS

Block Explorer URL:
https://scan.pulsechain.com
You must manually add your ERC20s for them to show. The snapshot for the balances for this testnet were a couple months ago.
Swap between PLS and thousands of PRC20s on
PulseX
. You can see all Pulsechain activity on the
Block Explorer
.
Copyright © PulseLN. All Rights Reserved.